Thimbleweed Park Press Page
All the news fit to print and some highly questionable stuff.

Please don't use the old screenshots from the Kickstarter page, they are painfully out of date. Email press@thimbleweedpark.com with any questions or requests.

Facts
Developer / Publisher: Terrible Toybox (based in Seattle)
Release date: March 30, 2017 at 9:00 PDT
Platforms: Mac, Windows, Linux, Xbox One, iOS, Android and hopefully more.
Website: https://www.thimbleweedpark.com
Regular Price: $19.99 in American Dollars

Contact: press@thimbleweedpark.com
Description
Welcome to Thimbleweed Park. Population: 80 nutcases.

A haunted hotel, an abandoned circus, a burnt-out pillow factory, a dead body pixelating under the bridge, toilets that run on vacuum tubes... you've never visited a place like this before.

Five people with nothing in common have been drawn to this rundown, forgotten town. They don't know it yet, but they are all deeply connected. And they're being watched.

In a town like Thimbleweed Park, a dead body is the least of your problems.

Features
• From Ron Gilbert and Gary Winnick, creators of Monkey Island and Maniac Mansion.
• A neo-noir mystery set in 1987.
• 5 playable characters who can work together... or get on each other's nerves.
• Not a walking simulator!
• Satisfying puzzles intertwined with a twisty-turny story that will stay with you.
• A vast, bizarre world to explore at your own pace.
• A joke every 2 minutes... guaranteed!*
• Casual and Hard modes with varied difficulty.
• English voices with English, German, French, Italian, and Spanish subtitles.

*Not a guarantee.

Screen Shots
Download launch assets (localized screenshots, logo, and key art) as a .zip file
Key Art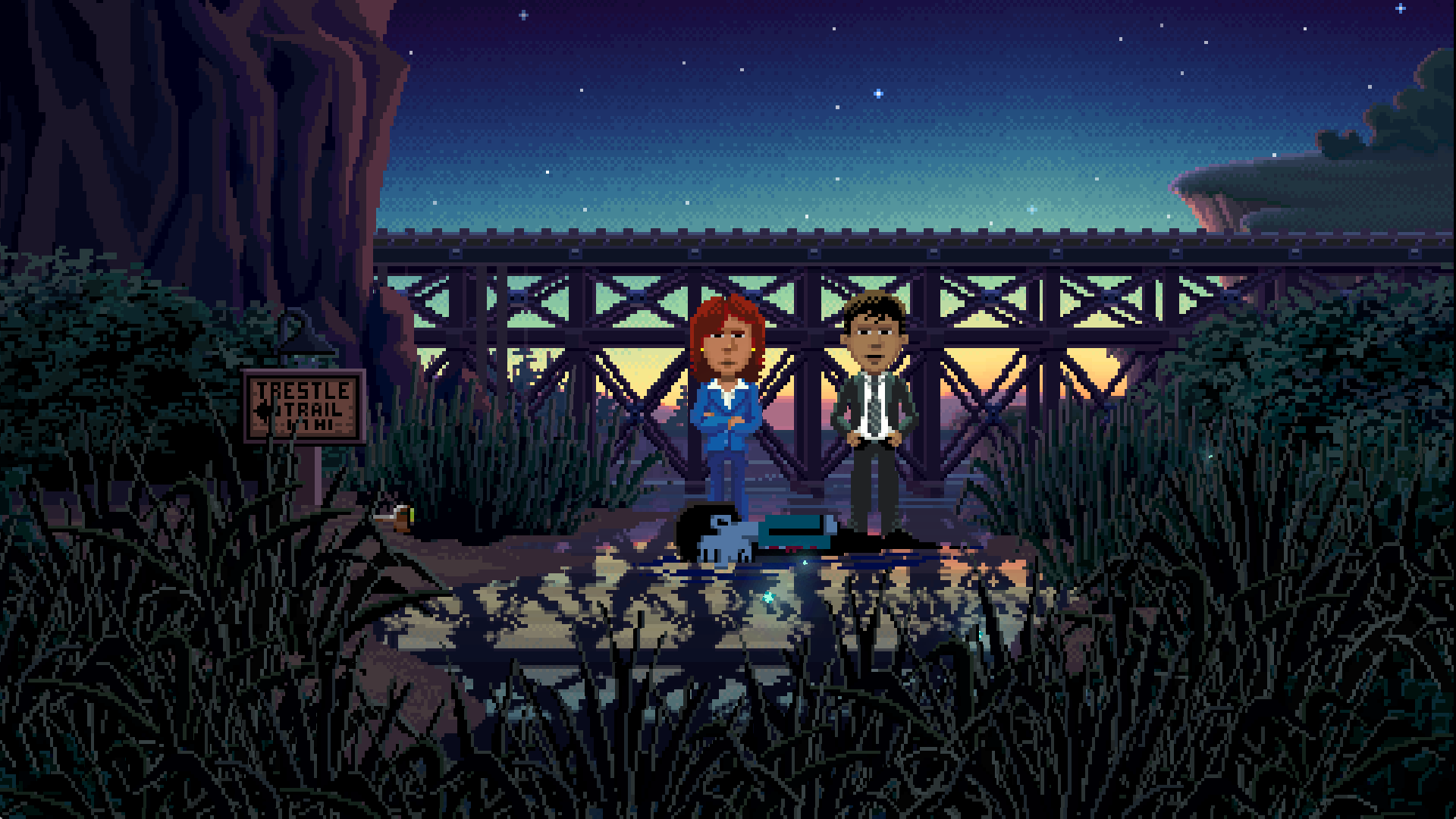 Videos
Download the video as a .zip file
Download the video as a .zip file
Download the video as a .zip file
Download the video as a .zip file