Thimbleweed Park Presskit Page
All the news fit to print and some highly questionable stuff.

Please don't use the old screenshots from the Kickstarter page, they are painfully out of date. Email press@thimbleweedpark.com with any questions or requests.

Facts
Developer: Terrible Toybox (based in Seattle)
Publisher: Terrible Toybox
Release date: Early 2017
Platforms: Mac, Windows, Linux, Xbox One, iOS, Android and hopefully more.
Website: https://www.thimbleweedpark.com
Regular Price: TBD

Contact: press@thimbleweedpark.com
Description
In a town like Thimbleweed Park, a dead body is the least of your problems.

Thimbleweed Park is an all new epic graphic adventure game by Ron Gilbert and Gary Winnick, the creators of Maniac Mansion.

Thimbleweed Park is the curious story of two washed up federal agents called in to investigate a dead body found in the river just outside of town, bloated and pixelated from a death come too soon.

Lost along a dusty stretch of highway, the town of Thimbleweed Park once boasted an opulent hotel, a vibrant business district and the state's largest pillow factory, but now stinks of a desperate longing to be what it once was.

The game will feature Ron and Gary's trademark satirical humor, poking fun at Twin Peaks, True Detective and The X-Files, with a little Stephen King thrown in just for fun.

Thimbleweed Park was successfully funded on Kickstarter in Dec 2014 and is scheduled to be completed early 2017 for Xbox One, Windows, Mac and Linux. Android and iOS will follow soon after.

Features
• Five playable characters
• A vast and compelling world to explore at your own pace
• A cast of thousands (ok, twenty)
• A joke every 2 minutes... guaranteed!
• No deadends! No stupid puzzles!
• Some more stuff...

Key Art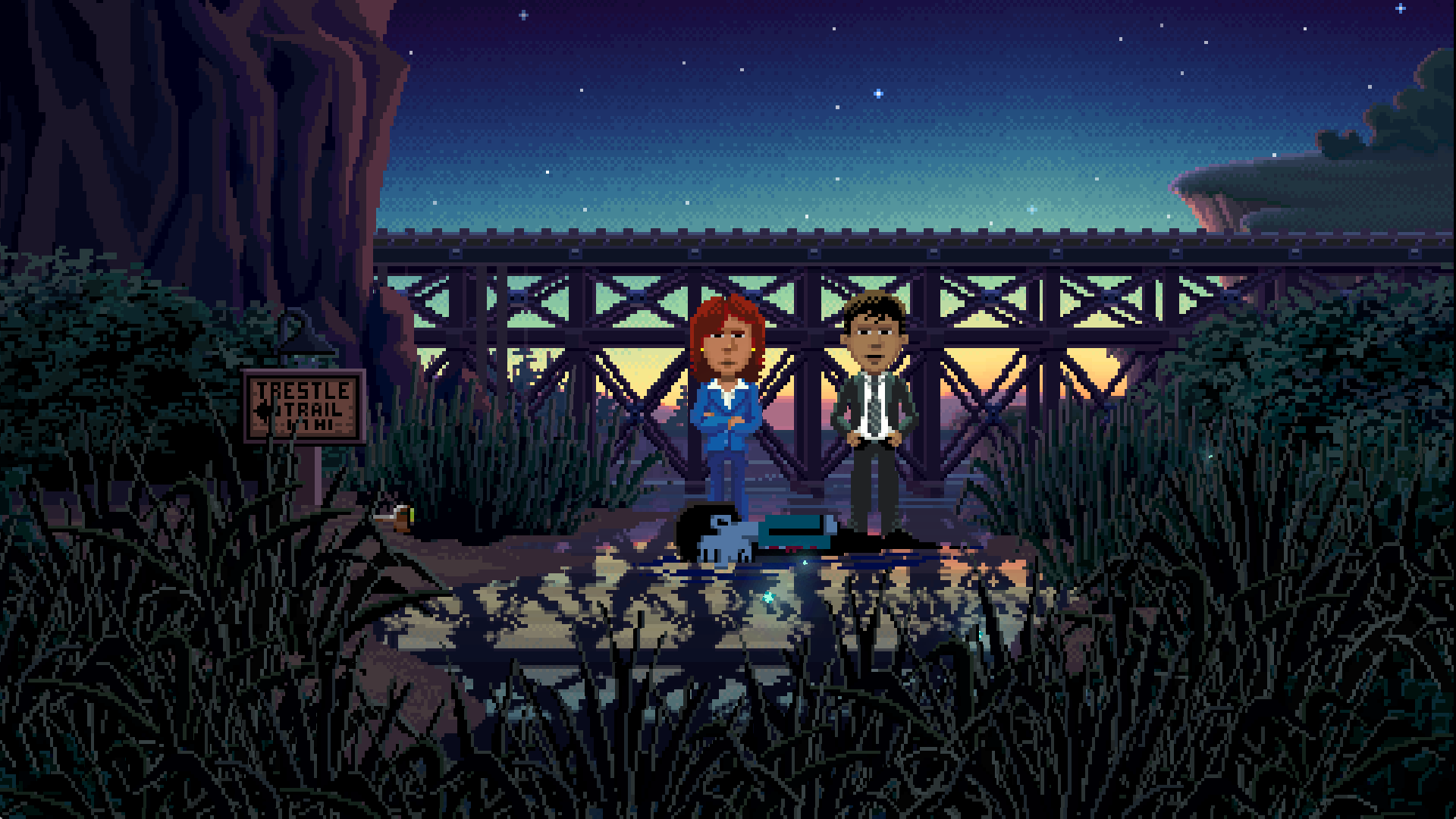 Screen Shots
Download December 2016 screen shots and other assets as a .zip file
Download August 2016 screen shots and other assets as a .zip file
Videos
Download the video as a .zip file
Download the video as a .zip file
Download the video as a .zip file
Download the video as a .zip file